I love stone, I love stone walls, I love to work with stone. Stone is permanant, stone lasts, stone is natural, stone is beautiful. I don't think I have ever seem an ugly stone wall, granted, some stone work looks better than others, but in my mind all stone work is beautiful. I have posted some pictures of a stone wall that my Mother and Dad and I laid up in the 1990's at another place on this Forum, but to get this topic started I will post it again with some other stone work here on my property. To enlarge the pictures just click on them, if you click a 2nd time after that they will get larger still.
I have been sifting rocks from my garden for years and have used the larger stones to lay up a dry retaining wall for the rest of the loose stones. The stone is very soft sand stone and will not last long expossed to the freezing, wind etc. but it serves a useful purpose, and it gets rid of the stones.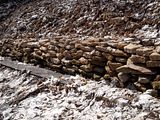 I am not an artist when it comes to building stone walls, but I do have an eye for what will fit in that hole.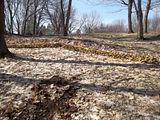 I am blessed to have some old stone work on the place. 11 acres of my land was once a park build by the Government in the 1930's. There is a stone pavillion, several stone fireplaces and a stone wall that were all build by the NYA in the mid 30's. The date on the pavilion is 1937. The NYA stands for National Youth Administration, it was like WPA or the CCC and put kids to work in the great depression.
The pavilion had a slate roof held up by old barn beams on it when I bought the place . A large pine tree fell on it and smashed 1/2 the roof down. I had a back hoe take down the other 1/2 for safety. My sons still enjoy haveing fires there with friends and maybe playing Beer Pong and enjoying nature.
This is part of the old retaining wall the NYA built. Most of it is still in very good shape, I took this picture to show what tree roots can do to a wall over time.
I have made a couple more small stone walls here and there around the place, I will try and take some pictures when the sun is out. I started this thread so that people can post pictures of stone work from their areas and talk about how to lay stone, cut stone, work with stone in various projects.