I was lucky enough to spend a couple of days at the Chicago Center for Green Technology this week. I live most of my life in a pretty rural area and try to stay far away from Chicago if I can. The traffic, stress, people..... AAAAAAAHHHHHH! I don't know how people live like that.
Anyway, the center had a lot of cool things and featured a lot of recycled technology that I've never seen before. There were several different materials there made from recycled airplane glass (I didn't realize there was a surplus of airplane glass?). Several educational areas highlight things like green building design, green building materials, and even things like milk based paint. The outside area is covered with verticle gardens, a small prairie area, edible and native plants. Three different sets of solar arrays power the place; one of which is built into the building's awnings. They also have a large greenhouse out back. Here's a picture of the greenhouse, garden, and parking area, with the city skyline behind: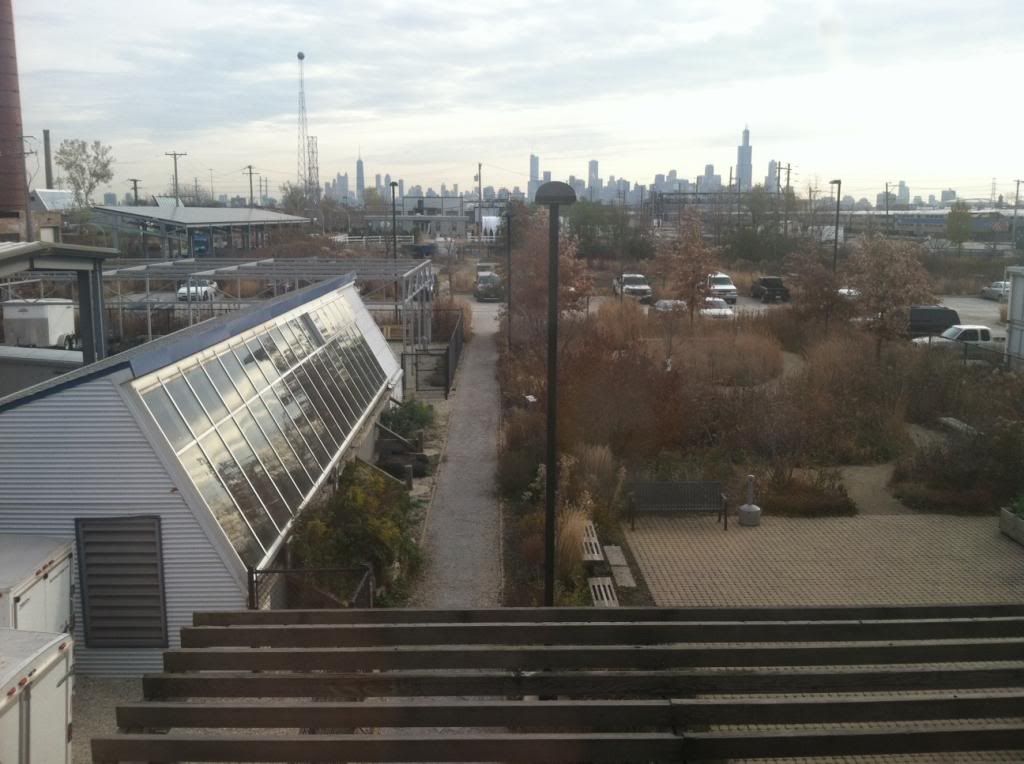 The greenhouse uses concrete mass on the back wall to store heat throughout the day and release it at night when the temps are cooler.
It's neat that this place exists, but I have to admit that it also seems kind of obscure when everything surrounding it for miles and miles is total and udder S**t. I mean there is so much litter all around- people can't even put their trash in a trash can let alone separate their recyclables. Not to be Debbie-Downer but it seemed like there are some real problems that need to be addressed in that city that aren't being touched by the CCGT, and they seem like major issues that are pretty relevant to what CCGT is trying to address. They should start with population control. Human populations have the highest impact on natural resources. There is no greater impact a person can have on the environment than choosing or not choosing to have children, and how many you choose to have.
Anyway, off my soapbox about that- I'm just not sold on all the emphasis that is being put on the recycling in this "green revolution". During our stay our meals were catered in in little paper boxes. After our meals we all went through this intense process of separating our paper, plastics, disposables, compost. The guy next to me proudly proclaimed "hey, this is just like at home!" I'm like "Jesus, I haven't generated this much waste in the last 10 days combined?!"
Just thinking back to basic ecology class, that whole Reduce-Reuse-Recycle theme is time imperative. Reduce as much as you can. When you can't reduce, then reuse that impact that you've made. Recycle is a last resort when you've done everything else you can. I really feel like the current theme is more like, "waste all you want, just throw it in the recycling bin when you're done!"